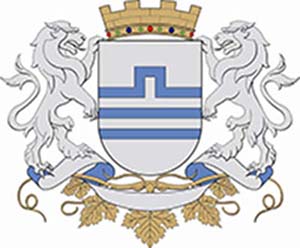 Taxi Podgorica Montenegro – cheap taxi service where you will always get a favor more. New, comfortable and always clean cabs, most courteous and fully licensed drivers, guarantee a comfortable and safe service taxi Podgorica, and taxi from Podgorica airport.
Taxi Podgorica
Whether you need a personal or business transportation in Podgorica, to go to any destination, please feel free to contact us. Taxi Podgorica Montenegro is a professional and accountable organization, backed by years of experience in the field of passenger transport. You only need to contact us, and we will responsibly arrange your cheap taxi from Podgorica to Podgorica airport, or to other destination in Montenegro or abroad. All scheduled transfers are private, you will not share taxi vehicle with the other tourists.
Taxi Podgorica servis you can contact 24/7 by email, phone call or SMS,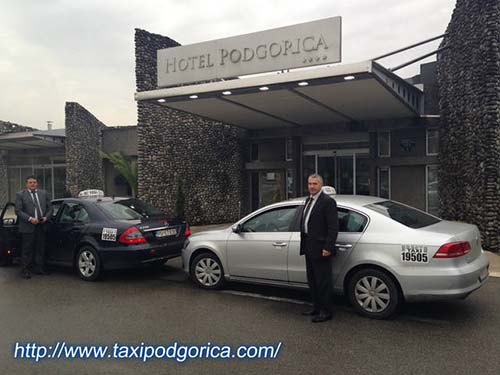 or simply use our online booking form to schedule your transportation from/to Podgorica. You can book your transfer up to six months in advance, because all our taxi prices in Montenegro are fixed, and there is no extra charge. All costs for taxes, toll and insurance are included in all prices. Transportation prices are valid for the year 2015, and all prices are per vehicle, 1-4 passengers. We are providing traveling service from Podgorica with comfort class vehicles - new VW Passats, Mercedes E class, Audi. All reservations are free of charge, and you will pay your inexpensive taxi service Podgorica when you arrive at your destination. All luggage is also free of charge, and at your request, for all transfers from Podgorica, baby seat is available without extra charge.
Taxi service Podgorica you may also use for traveling from other cities, airports or any resort in Montenegro or abroad, if your destination is Podgorica or Podgorica airport, and of course that you will pay just a ride in one way. Taxi Podgorica driver will wait for you at the airport exit, reception desk or other scheduled meeting point, and provide you with an excellent taxi in Montenegro. Call centre of Taxi Podgorica Montenegro is staffed 24 hours a day, in English and Montenegrin language, and a friendly and responsible staff will receive your reservation for transportation in Podgorica Montenegro, and send you a confirmation as soon as possible.
Transportation from Podgorica to cities in Montenegro
Basic activity in our company are airport transfers, and taxi from Podgorica to other cities in Montenegro. These trips are the most pronounced during the summer and winter tourist season. Your transportation from Podgorica to Budva, Kotor, Ulcinj, Tivat and other cities is our primary business.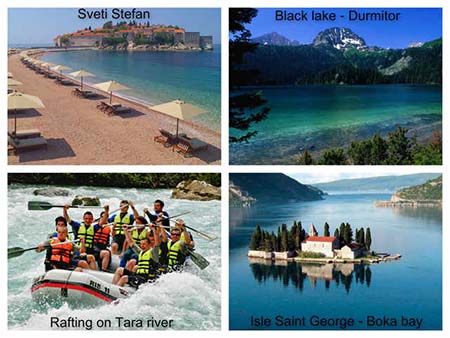 Montenegro is tourist destination with increasing number of tourists each year, and service taxi from Podgorica to our summer and winter resorts became the most popular journey request. You can schedule your transfer from Podgorica to Herceg Novi, Petrovac, Bar or any other place in Montenegro. In order to avoid unnecessary waiting, it is desirable to reserve your cheap taxi Podgorica Montenegro at least 15 minutes beforehand, and you will get the best transportation service in Montenegro. Satisfaction of our customers is is our priority, who has just once used our service, he will always return to us !
Montenegro is generally mountain country, and taxi from Podgorica to Zabljak, Kolasin, Vucje or other mountain resorts in Montenegro are also our frequent trips. Our mountain tourist centers are popular equally in winter and summer. Wherever you need to go, Podgorica taxi service will pick you up at any location in Podgorica - airport, your hotel, office or home, and provide you with the best taxi in Montenegro. Also, if you need journey to Podgorica, from any point in Montenegro, please contact us. From us you will always get affordable offer and friendly service. If you are interested in other options of traveling in Montenegro, in our website you can find information about transportation from Podgorica by bus and train.
Transfer from Podgorica to abroad
Traffic connection of Podgorica with resorts and cities in neighbouring countries is not at satisfactory level. Transportation from Podgorica Montenegro to bigger regional cities is mainly covered by buses, and in direction of Belgrade by train. But different categories of travelers decide to take a taxi in Podgorica, to travel to neighbouring countries. Business people which need a transfer from Podgorica to Tirana, Dubrovnik, Pristina, Sarajevo… or other regional center, are usually passengers which will stay for few days, because of meetings, seminars, conferences... All of them can schedule return ride to Podgorica directly with their driver, or to book it through our website.
To book online Podgorica taxi service, you can do it in a few steps, using our simple form on the right side. We require just basic information, your name or company name, precise meeting point and departure time. Second category of travelers which need a taxi from Podgorica to abroad, are tourists which want to have an active holiday. This kind transfers from Podgorica Montenegro are usually one day excursions in Montenegro, or active tourists which want to visit and stay in several countries during their vacation. It is very feasible, because if you take a taxi in Podgorica, you are in 30 min in Albania, 1 hour 30 min in Bosnia, 2 hours 15 min in Croatia.
Local rides - What to use: buses or taxi ?
For all travelers which are already in Podgorica, and they need a ride to visit a suburb of Podgorica, except the taxi, journey by bus is the only choice. Public transport in Podgorica is done only by buses, 12 city and 16 suburban lines. There is no metro or tram, diameter of urban area is about 7-8 kilometers. Bus transport is privately owned by two companies from Podgorica, which are together organizing and sharing the total number of lines. For your transfers by buses, you must know where are the local bus stops. In Podgorica they are marked on the streets by yellow bus sign, and there are the small covered waiting rooms at the sidewalks. Buses departs from the initial stations at an intervals of 15-30 minutes, on working days. To take a cheap taxi in downtown of Podgorica to go to the settlements (Zabjelo, Stari Aerodrom, Tolosi, Masline, Zagoric etc.) you will not pay more than 2-3 euros for the ride. There is more than fifteen local taxi companies in Podgorica, and their stands are all over the city area. To reach your destination by bus, sometimes you need to change two lines. Bus ticket cost 0.70 eur, and you are buying the ticket in the bus. Ticket is valid just for one ride. Local taxi service in Podgorica is the cheapest in Montenegro, and buses are not so popular mode of transport.
Transport for disabled persons in Podgorica
As a responsible company which cares about the needs of their fellow citizens, recently we have expanded our range of services – taxi for disabled in Podgorica. Currently, we have two specially designed vehicles for transportation of persons with special needs through Podgorica and Montenegro. Although all streets in Podgorica (just like the entire city) were built in the last sixty years, people in wheelchairs have great problems in traffic through Podgorica. Only recently, pedestrian crossings and sidewalks starts adapting for moving of disabled persons. Unfortunately, even the buses are not equipped with the ramps for the reception of disabled people, and their safe journey. We are serious about the problems that have people with limited mobility, and we decided to do something. We have a two vehicles intended for a taxi for disabled persons in Podgorica, which you can see on the picture below.

They are specially constructed for the reception and transportation of persons in wheelchairs, not only in Podgorica, also everywhere through Montenegro and beyond. If you are coming to Montenegro, and you need a transport from airport of Podgorica and Tivat for disabled people in wheelchair, we are here to help. One vehicle is Renault Espace, and can serve one person in a wheelchair, and four associates. Second one is the minivan, Fiat Ducato, and serves for a taxi rides up to six handicap persons from/to Podgorica, with addition of three normal seats for medical or private escort. At your request, we can carry out any transfer in the Balkans, Podgorica is not necessarily the starting or end point of the trip for disabled passengers – they can travel to Serbia, Bosnia, Croatia, Albania, Macedonia, Kosovo or to any other state.